Skip to end of metadata
Go to start of metadata
Interface enhancements
1. Want a little less clutter — and a little more space? The new Gmail lets you collapse the left-of-screen panel that holds all of your labels and categories. Just click the three-line menu icon (a.k.a. the "hamburger menu") in the upper-left corner of the screen, and the panel will shrink down into a narrow list of icons. It'll then automatically expand whenever you hover over it, so you'll still be able to find what you need.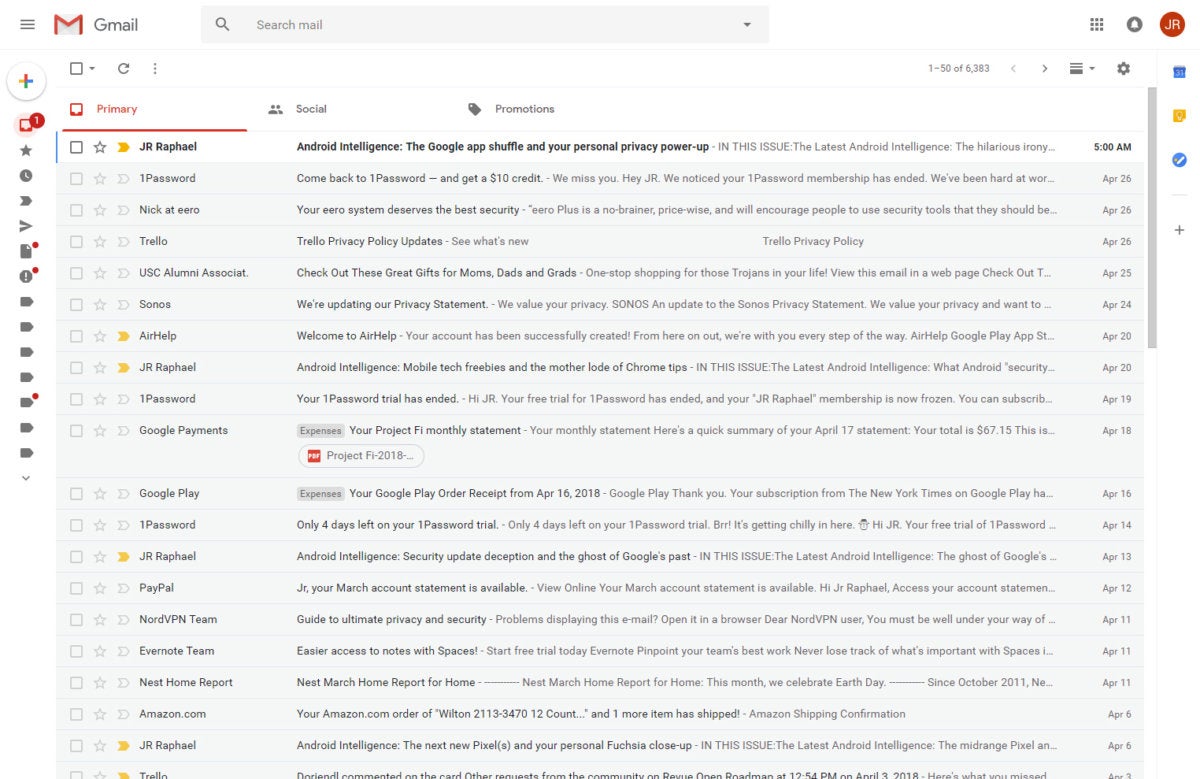 JR Raphael / IDG
2. Check out attachments right from your inbox — without ever opening a message. By default, the new Gmail shows tiles for every file associated with an email right below the email's subject line. All you have to do is click on a tile to open or preview the file's contents and get directly to the info you need.
3. The downside to those tiles is that they make emails with attachments appear larger in your inbox, since their lines become taller and thus also more visually prominent. If you aren't a fan of that — and don't mind losing the one-click attachment access — you can disable the icons by clicking the gear icon in the new Gmail's upper-right corner and selecting "Display density." Switch the view from "Default" to "Comfortable," and Gmail will go back to the older method of indicating attachments (with a small paper clip icon at the right of a message's line).
For an even more compact inbox — with less padding and more dense information — try out the updated "Compact" view in that same "Display density" menu.   
4. Wishing the new Gmail had a dark theme? It actually does: Just open up the gear icon in the upper-right corner and select "Themes." There, you'll find a variety of colorful options for jazzing up your inbox along with some more muted options, like plain dark, high-contrast, and the pleasingly subdued soft gray.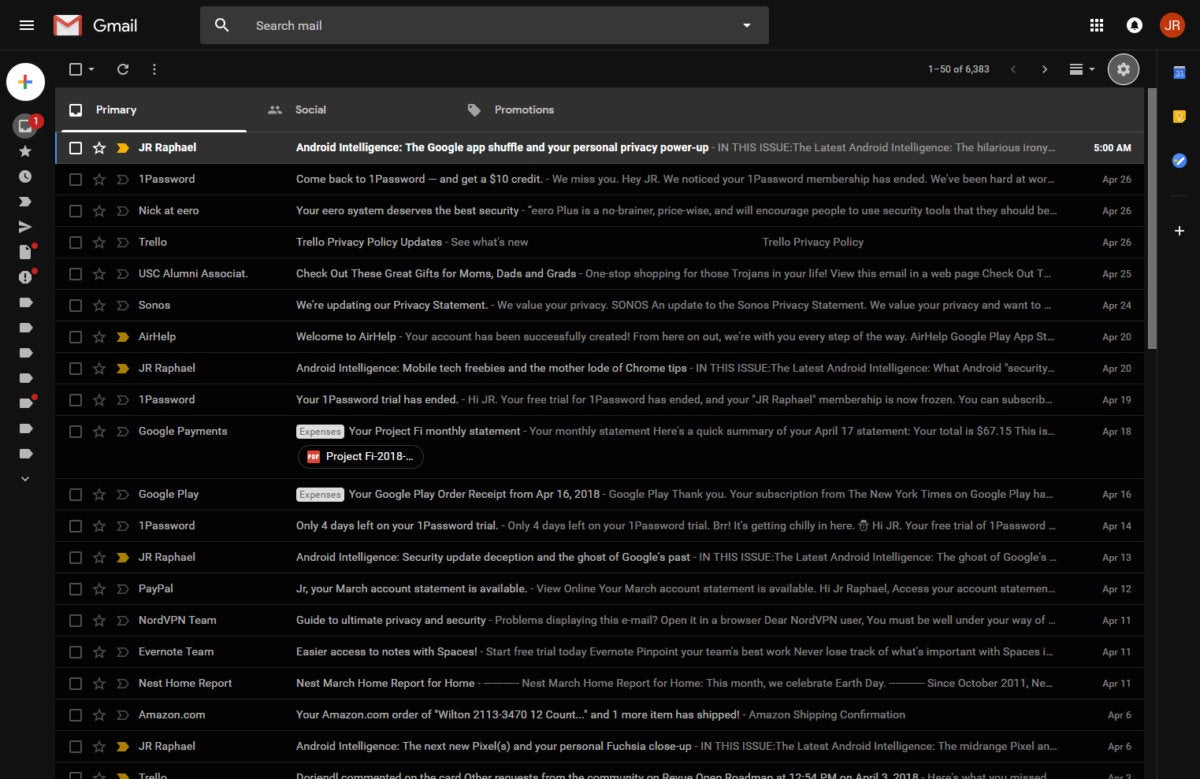 JR Raphael / IDG
5. Step-savers, take note: When you hover your mouse over a message in your inbox, the new Gmail will give you a series of quick-access actions at the right side of the line. You can archive the email, delete it, mark it as read or unread, snooze it (more on that in a minute), or even RSVP to a meeting request right then and there. 
Ever like marking messages as unread after you've opened them? The new Gmail makes that easier than ever to do: Anytime you have an email open, look for the envelope icon directly to the right of the trash can in the horizontal row of icons above your message (in the area directly beneath the search bar). That'll let you mark the message as unread with a single click. (In the old Gmail, you first had to click the "More" button to find that command.) If you've already closed the email, you can hover over it and click the "Mark as unread" icon, as mentioned in tip 6.
Organizational features
6. Snoozing is one of the most useful tools to make its way into the new Gmail. Instead of letting messages linger in your inbox and pile up to an unmanageable point, use the snooze function to help yourself deal with everything as soon as you see it: If you can respond to something in less than a minute, do it. If something doesn't require any action on your behalf, archive it immediately. And if something requires some sort of action but you don't have the time to mess with it at that moment, snooze it to a day and time when you will be able to handle it.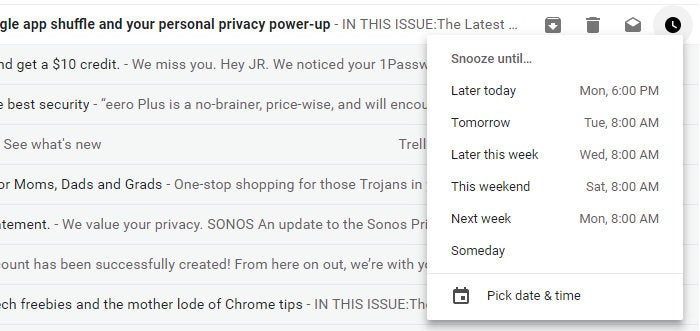 JR Raphael / IDG
Snoozing a message causes it to vanish from your inbox and then reappear at any day and time you choose.
As noted in tip 6, you can snooze an email from your inbox by hovering over the message and selecting the clock-shaped Snooze icon. To snooze an email that's open, click the Snooze icon to the right of the envelope icon in the row of icons at the top of the page. Your inbox will be less cluttered, more organized, and more manageable as a result. (Note: Conversation View must be ON.  This is found in Settings, General tab, Conversation View...
)
The new Gmail makes it possible to snooze multiple messages at the same time — in case you see more than one email that needs to be pushed back to the same point. From your inbox, simply click the boxes to the left of any messages you want to include, then click the clock-shaped icon in the horizontal row of icons that appears at the top of the screen and select the day and time you want.
Need to get back to something you snoozed — or change the day and time at which it's set to reappear? You can always find all of your snoozed emails in Gmail's new "Snoozed" section, directly beneath the "Inbox" line in the left-hand panel. Once you're there, just hover over any email and click the clock-shaped icon to change its snooze settings or unsnooze it entirely.
You can snooze messages from the Gmail mobile apps, too, though the option is a bit buried. From the inbox view, press and hold a message to select it, then tap the three-dot menu icon at the top of the screen and look for "Snooze" in the list of options that appears. If you've already opened the message, tap the three-dot menu icon on that screen; you should see "Snooze" show up as part of the options there as well.
The new Gmail will always suggest times for you to snooze a message: On the desktop interface, it offers "Later today," with an evening time; "Tomorrow," with a morning time; and "Next week," with a morning time. Depending on the day of the week, it might also offer "Later this week" and "This weekend" options, both with morning times. The mobile app presents those same choices along with more general "Morning," "Afternoon," or "Evening" options after you've selected a custom date.
If you don't want to use one of the preset times, you can always choose the "Pick date & time" option. Here's a little secret, though: You can actually customize what times Gmail uses for each of those preset options. There's currently no setting for that within Gmail itself, oddly, but open up Google Keep and then click "Settings" in its left-hand panel. See the fields for "Morning," "Afternoon," and "Evening"? Enter in whatever times you want for each day-part, then click "Save."
Refresh your Gmail tab, and there you have it: The times you selected will now be used for the same respective day-parts there — and in the Gmail mobile app as well.
Inbox integrations
7.  The panel at the right of the new Gmail interface lets you pull up Google Calendar, Google Keep, or Google Tasks right inside your inbox so you can manage info from each of those apps without having to switch tabs or open anything new. With Tasks, you can even drag messages from your inbox into the panel to create new tasks around them.

JR Raphael / IDG
Creating new tasks from emails is as simple as dragging and dropping, as is being done here with the topmost message. (Click image to enlarge it.)
Unfortunately — and somewhat strangely — the same drag-and-drop behavior doesn't presently work (in either direction) with Calendar or Keep. Another glaring omission is the lack of any panel-based presence for Google Contacts, which seems like an obvious element for on-screen access. If you have Gmail keyboard shortcuts enabled, however, pressing "g" and then "c" will open up Google Contacts in a separate tab — so at least there's that.
Google Tasks is kind of confusing, given the fact that it overlaps considerably with Keep but lacks many of the most basic task management features (things like support for sharing or collaboration, the ability to create recurring tasks, and the ability to create meaningful reminders). Tasks also doesn't currently integrate with Google's cross-product reminders system.
But! You can have any items you create in Tasks show up in your Google Calendar — if you know how to do it: Open up Google Calendar and look under the "My calendars" section in the site's left-of-screen panel. You'll probably see a line there labeled "Reminders." Tap it and then select "Switch to Tasks" from the menu that appears. Then just make sure the box next to that line is checked and active, and your dated tasks will automatically come through and show up on the appropriate dates.
Just be aware that by doing this, you'll lose the ability to have any reminders — those set via Keep, Google Assistant, or the Google search box — appear in your calendar. For whatever reason, it's a one-or-the-other decision.
Tasks doesn't integrate directly with the Gmail mobile apps, so if you're planning to use it, you'll want to get the new standalone Tasks app for phone-based access. It's available on both Android and iOS.
8.  That right-side panel in the new Gmail interface doesn't have to be limited to just Calendar, Keep, and Tasks. See that little plus sign beneath those apps' icons? Click it, and you can add in extra items for inbox-based access to services such as Trello, Wrike, and QuickBooks. (Google says a similar side panel will be making its way to other Google apps — including Calendar, Docs, Sheets, and Slides — in the "coming months.")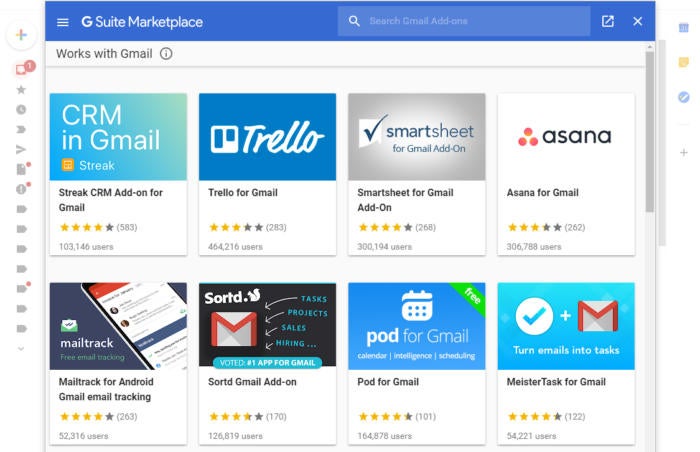 Google
A variety of third-party apps can be added into the new Gmail's right-side panel. (Click image to enlarge it.)
Shortcuts and time-savers
9.  The new Gmail has some noteworthy keyboard shortcuts that can save you time and make it easier to get around: Pressing "b" when you are viewing a message or have selected a message in your inbox will let you snooze it; holding down Shift and then pressing "t" will open up the Tasks panel and add your currently open or selected message as a new item; and pressing "g" and then "k" will open up the Tasks panel, regardless of what else you're doing. (Just be sure you've activated the keyboard shortcuts option in the "General" section of Gmail's settings first.)
10.  Remember Gmail Labs? That's gone in the new Gmail, but you can find many of the same options in a newly added "Advanced" section within the site's settings. Click the gear icon in the upper-right corner of the screen, select "Settings," then select the "Advanced" tab at the top of the screen. Useful features such as templates, custom keyboard shortcuts, and the ability to turn on an Outlook-like preview pane await.
11. Keep an eye out for "nudges" in the new Gmail. The service will occasionally place reminders next to messages in your inbox when it thinks something's been sitting around too long and might require a reply. (No word yet if those "nudges" will ever be accompanied by "wink, winks.")
12. Give your fingers a break with Google's Smart Reply feature, which officially makes its way from the mobile app to the desktop with the new Gmail. Just look for Google's suggested responses — presented in white tiles with blue text — at the bottom of any email you're reading. If any of those suggestions seems like a response you want to send, click it; Gmail will then start a new reply and place that text inside the message for you. You can edit the text or add to it, if you wish, and send your message on its way in no time.

 JR Raphael / IDG
Gmail's Smart Reply feature can take the words right out of your mouth (maybe, sometimes).
And in case you're wondering, by the way: There's no way to turn off Smart Reply altogether on the desktop as of now. You can, however, disable it in the Gmail mobile app by looking in the account-specific section of the app's settings.
13.  You can add someone to the recipient box while you are composing an email.  Simply type + or @ and their name and Gmail automatically adds them.
Customization and control
14. Just like in the old Gmail, remember that you can change how your inbox looks and works. Hover over "Inbox" in the left-of-screen panel and click the down-facing arrow that appears next to it to peruse the available options (important messages first, unread messages first, etc.) — and if you're using the default tab-based setup (categories), look for the "Manage your inbox settings" link in that same area to pick and choose which tabs you want included in your inbox's organizational structure.